Manifolds are collectors comprising a set number of valves to control and regulate the flow of different fluids moving around a production plant.
The manifolds manage these flows by simultaneously opening and closing the valves to enable or stop the flow of different products along different lines.
This means different actions can take place at the same time, i.e. one tank can be filling with a product, while another product can be emptying from another tank along a different line, and a third tank can be undergoing CIP cleaning.
As this intersection of lines and different products make this a critical point in the plant, any valves regulating this traffic have to prevent the potential contamination of products prepared with other products or cleaning solutions (CIP), using a specific design, double seats and double gaskets to prevent any mixing.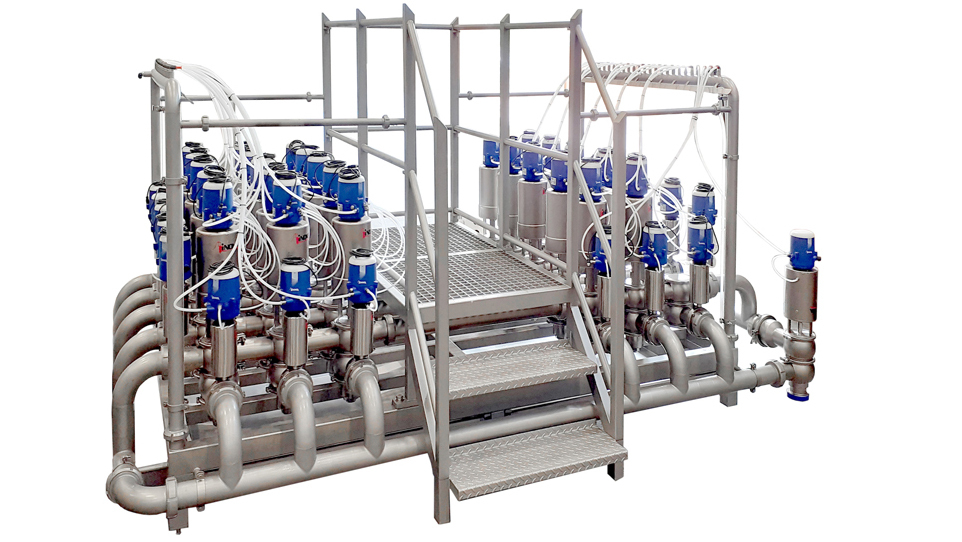 These valves with special characteristics are classified as "mixproof" valves. The design, with double seats and double gaskets, creates a so-called intermediate "leak detection" chamber, which connects to the exterior along the inside of the shaft.
Should either of the gaskets become worn, and given the pressure difference between inside and outside the pipes, any leaks would occur through this chamber and move towards the exterior. These can be detected visually, checked and repaired, avoiding the contamination and mixture of products from both lines.
The size of the manifolds and the number of valves they comprise is determined by the number of simultaneous operations required, with one line needed for each function, multiplied by the number of tanks requiring management.
As such, each manifold is a custom-made product to fit each customer's processing system, application and the number of lines or valve types for the application.
Therefore, manifolds are exclusive products, designed by an engineering team, based on each customer's requirements via a complex project, applying different specific phases until the end product is achieved.
ADVANTAGES OF MANIFOLDS
Manifolds operate more effectively than separate valves or the old-style panels with elbows and connections. Notable features include:
.Automation from a control panel
.Lower energy consumption
.Higher efficiency: reduced cleaning and maintenance costs and times
- Their compact design and reduced space requirements lower installation costs and reduce line cleaning and maintenance.
- There are fewer connections between pipes, meaning fewer risks of leaks.
- Fluid routes are shorter, reducing pressure drop.
- More efficient than separate valves or the old-style panels with elbows and connections.
- Automation using a panel and control heads improves control and efficacy and limits potential faults.
- Energy and air consumption is lower.
- Centralisation enables performing several operations in the same small space at the same time.
COMPONENTS OF A MANIFOLD
A manifold is a set of different components, structures and systems designed and combined based on specific guidelines.
It comprises a frame or base with adjustable feet on which the other components are installed: the valve cluster, pipes with connections, air connectors, cable guides, a product collection tray, walkways for large installations, and an electric panel.
Manifolds are widely used in the food-processing and pharmaceutical industries, so high quality materials are used, which are compatible for the target products.
All components are made from 304 stainless steel, and every part that comes into contact with product is made from 316L stainless steel, given its resistance to rust and smooth and polished surfaces prevent any contaminating residue building up and make cleaning easier.
SPECIFICATIONS AND P&ID
The customer prepares and provides a set of requisites and specifications based on their needs.
This involves the number of lines, the number of actions to undertake, the type of valves for each case, valve automation and control, maintenance accesses, air and electrical connections, sizing, etc.
These requisites are ultimately represented in a P&ID, provided either by the customer before the INOXPA engineering team supervises and proposes any potential improvements, or INOXPA designs the P&ID based on the customer's conveyed requirements and needs, which they later review and approve.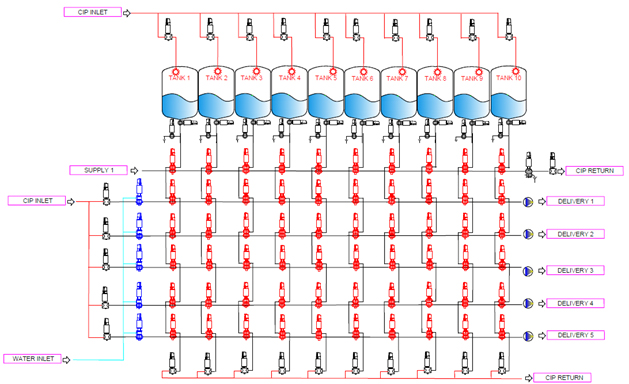 QUOTE AND MATERIALS LIST
A detailed quote is prepared once the P&ID is defined, including all manifold components, their manufacture, automation, and transportation, along with implementation if requested.
The customer then reviews and approves the quote.
DESIGN AND 3D PHASE
INOXPA is highly experienced in this project phase, using the best modelling software, thus ensuring an accurate outcome, avoiding potential errors and applying some very realistic finishes.
This provides a virtually real sample of the outcome that the customer can visually inspect prior to manufacturing.
MANUFACTURING
Manufacturing occurs using accurate measurements by highly qualified staff, with surveillance of every factor involved in the process, such as temperature-induced expansions or contractions, weld tolerances, pressures, etc.
The frame, valve array, air connections, product collection trays, walkways for easier maintenance, electrifical works, control panel, pipe connections,… every component is manufactured and fitted with precision prior to inspection.
All work is documented to ensure compliance with the different applicable industrial guidelines and, once manufactured, the manifold is tested to check all its components and operations prior to receiving final approval.
Lastly, the manifold is protected and packaged for shipping, and if requested by the customer, it is installed and implemented in the plant, completing the project.